2. Buy the book for $35 and the entire purchase price goes straight to the 2018 festival! Author Nancy Sporborg is still donating ALL proceeds to bring pumpkins to Downtown Keene! If you live locally, you can purchase the book at Toadstool Bookshop. Otherwise, BUY BOOK NOW (This link takes you to Nancy Sporborg's book page where you can buy the book and see her other book.)
3. Join the Pumpkin Honor Roll with a $100 gift!
Demonstrate your undying love of Keene Pumpkin Festival and for a limited time receive a signed copy of the book FREE! Your name will be included in the Pumpkin Festival Honor Roll prominently displayed on pumpkinfestival.org. We only need 200 more festival lovers to underwrite the entire festival!
Sponsors and Corporations!
Sponsorship Agreement 2019 We have streamlined the sponsorship agreement for your convenience, Community sponsors, welcome back! We are so grateful.
Huge thank you to The Stage for lighting up our fundraising with a leadership gift. If you are looking for a wonderful lunch, dinner or Sunday brunch, The Stage never disappoints. The Stage Restaurant & Café, 30 Central Square, Keene, 603-357-8389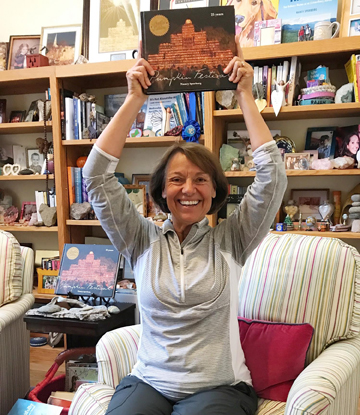 The founder of the festival, Nancy Sporborg, literally wrote the book on Keene Pumpkin Festival's 25 years. She is pictured above in her office holding her book high, pledging ALL proceeds to the Keene Pumpkin Festival.